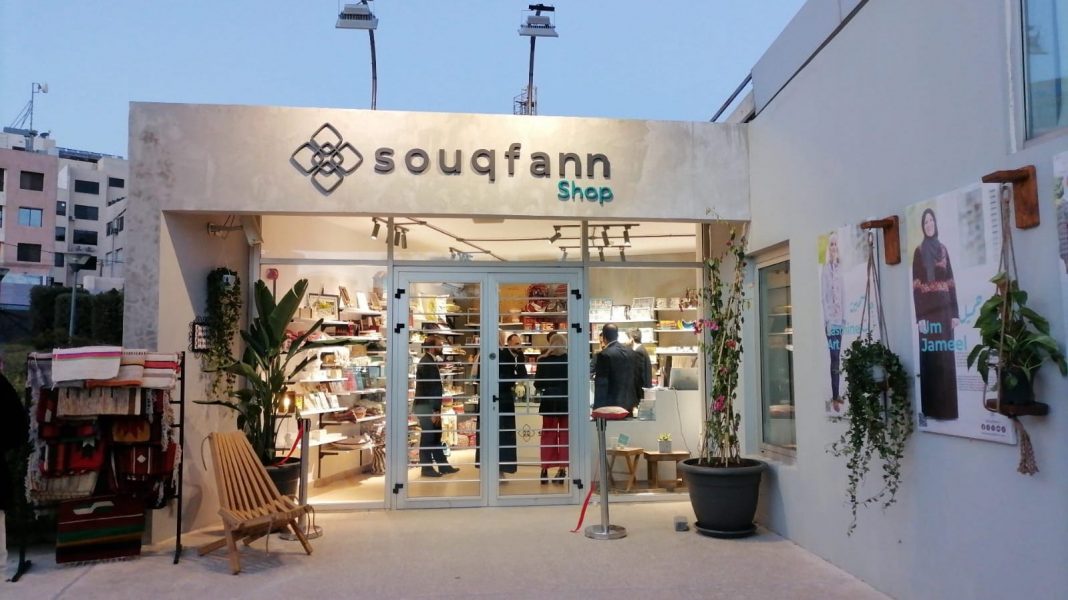 AMMAN – (22 March 2022) – Under the patronage and presence of H.E. Mr. Harry Verweij, Ambassador of The Kingdom of Netherlands in Jordan, and the presence of H.E. Ms. Haifa Najjar, Minister of Culture, Souq Fann held the ceremony for the official opening of its first on-ground shop at Haya Cultural Center. The shop opening is part of the Souq Fann Exhibition that gathers locally designed and handmade products in one place, which will run until 31 March 2022, at Haya Cultural Center, in Shmeisani, Amman.
Souq Fann is an innovative e-commerce portal that connects artists, artisans, and handicrafts producers across Jordan to new economic opportunities. Souq Fann helps these artisans share their products and tell their stories, while also providing payment, delivery, and customer care services. This exhibition comes as a new on-ground platform for the local artisans to showcase their creations, share their stories, and gain a wider range of customers.
The ceremony opened with a word by H.E. Mr. Harry Verweij, Ambassador of The Kingdom of Netherlands. "Support to economic growth and improving socio-economic rights for vulnerable people and communities is a priority for The Netherlands in Jordan," said Ambassador Harry Verweij. "I am very happy that we support Souq Fann in providing this platform for artisans in Jordan. It is great to see it working and offering the opportunity to improve their artistic skills and see them establishing their own businesses. The involvement of members of the refugee community among the artisans is also encouraging. An amazing example is Hana, a Syrian mother of four children in East Amman, who was able to bring her idea of handmade products to fruition and her own project "Shameyat" to life."
The ceremony also included a speech by Souq Fann's CEO and founder Dr. Sami Hourani, who expressed his gratitude for this opportunity to expand Souq Fann's reach. "Souq Fann was created to become the platform for Jordan's best handmade and locally-produced products. An easy-to-use platform where highly skilled craftsmen and craftswomen can share their creations across borders." Said Dr. Hourani.
A group of local artisans shared their success story and artistic journey with Souq Fann throughout the ceremony. "We are very pleased by this opportunity to present ourselves through our innovative project "Subbeh." The mentorship and support we received by Souq Fann has majorly contributed to our project development and success today, despite the challenges we faced during the beginning of our project." Said Engineer Su'ad Daana, whose project, along with her two colleagues, focuses on using cement mixes to create innovative home and office decorative pieces to decrease our daily use of plastic.
Supported by the Kingdome of Netherlands, Souq Fann Exhibition will be open to the public until 31 March at Haya Cultural Center where people can view the creations and visit the permanent shop too. Haya cultural Center is one of the largest multi-cultural learning and engagement centers for children and youth that focuses on nurturing creativity, discovery and experiential learning through the arts. The center also has a music academy and Haya Community Orchestra, with more than 60 young musicians and singers that performed at the opening ceremony.
Mrs. Reem Arida, General Manager of Haya Cultural Center added, "We at the Haya Cultural Center believe in the importance of developing partnerships with like-minded creative art institutions. We are proud of this partnership with one of the largest creative markets for handmade products" Souq Fann, and hope that this partnership will be the beginning of a long-term partnership in supporting creative productions of young innovators and strengthening the creative industry's sector."